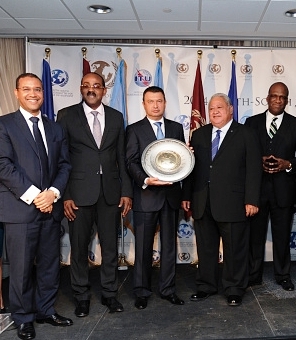 PRESS RELEASE
25 September 2014
Prime Minister of Samoa's contribution to sustainable development of Small Island Developing States recognized.

Lauded for his dedication and ongoing support in the implementation of sustainable development and poverty eradication while addressing the impacts of climate change on Small Island Developing States, Prime Minister Tuilaepa Sailele Malielegaoi was honoured at the South-South Awards Reception on Thursday evening in New York alongside United Nations Secretary-General BAN Ki-moon and the President of Tajikistan, Emomalii Rahmon.
The event took place during the United Nations General Assembly to recognize governments, organizations and individuals who have made significant contributions to advancing sustainable development.
The Prime Minister in his brief remarks said he was accepting the award on behalf of "all the leaders and people of Small Island Developing States"' and reiterated Samoa's and SIDS' "faith in the United Nations…..that will deliver for them and their people."
The Prime Minister called on UN member states for joint and decisive action to combat climate change now, urging others not to wait to take action tomorrow.
The hosts of the awards ceremony were Ambassador John Ashe of Antigua and Barbuda and Ambassador Francis Lorenzo of Dominica, who are the Co-Chairs of the South-South Awards.
-ENDS
Photo Caption: NEW YORK, NY – SEPTEMBER 25: (L-R) Ambassador Francis Lorenzo (co-chair of the South-South  Awards Committee and President of the South-South News, Prime Minister Gaston Browne (Antigua and Barbuda), Prime Minister Kokhir Rasulzoda (Tajikistan), Prime Minister Tuilaepa Lupesoliai Sailele Malielegaoi, John W. Ashe (President of the 68th General Assembly and co-chair of the South-South Awards Committee), attend the 2014 South-South Awards at United Nations in New York City. (Photo by Rommel Demano/Getty Images)