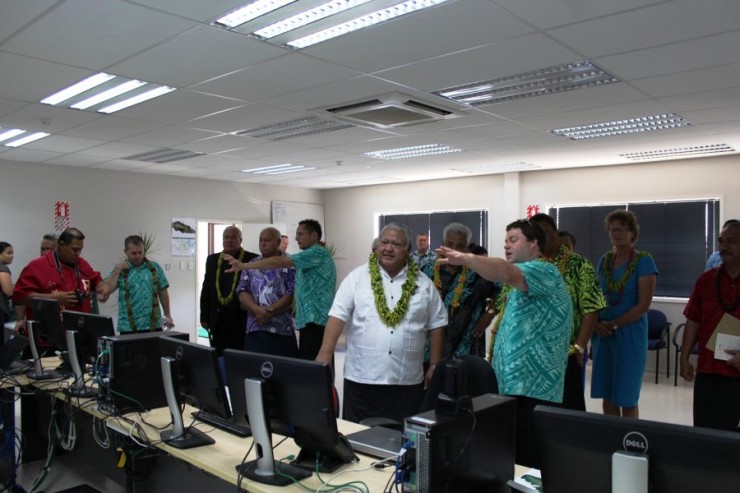 17 October 2014
Apia
The Prime Minister Tuilaepa Sailele Malielegaoi and MWTI Minister Manualesagala Enokati Posala officially opened the Fuluasou Substation and SCADA System at Tuanaimato today as part of the Power Sector Expansion Project. Funded by the Asian Development Bank, AUSAID and JICA – the opening of the Substation and SCADA System heralds a new era of energy management for the Electric Power Corporation in Samoa.
FULUASOU SUBSTATION
The Fuluasou Substation was built over 14 months, by Northpower Ltd of New Zealand.  The contract included a new building; two power transformers and switchgears to interconnect Fiaga and Tanugamanono Power Stations; switchgears to distribute electricity and a standby generator.
The installation of new Substation means lengthy and overloaded distribution lines (sourced all the way from Tanugamanono) are able to be split in to several, shorter, more reliable distribution feeders.  This means that electricity for some villages on the far western side of Upolu are now sourced directly from Fiaga while power for parts of Apia and the rest of the western areas of Upolu are now sourced from Fuluasou.
The new substation also ensures a dedicated and direct power distribution line to businesses and factories in the Vaitele Industrial Zone; whilst on the receiving end, it is also connected to the solar farm at Tuanaimato Racecourse via a dedicated pure transmission line.
During the dry season, electricity will be generated from Fiaga and transmitted to Tanugamanono via Fuluasou, and then distributed to the eastern parts of Upolu.
During the rainy season, electricity will be generated from hydro-power plants on the eastern side of Upolu, and then transmitted via Tanugamanono to Fuluasou where the power will be distributed to the western parts of Upolu.
The contract value for the Fuluasou Substation totalled SAT$14.5m.
THE SCADA SYSTEM
The National Control Centre (NCC) is incorporated in to the Fuluasou Substation using the Supervisory Control and Data Acquisition (SCADA) system and took the contractor, Schneider Electric of Australia, 18 months to complete.
From this Control Centre, SCADA provides round-the-clock monitoring and control for all of EPC's generation and key distribution sites on both main islands of Upolu and Savaii.
EPC now benefits from state-of-the-art systems providing a database upon which to maximise its operational efficiency.  This means more accurate on-line data combined with an archive of historical data, allowing EPC to better forecast power generation needs, optimise relative allocations of renewable/thermal power facilities on an hour-by-hour basis, reduce reactive maintenance response time and improve preventative maintenance regimes.
Also provided under this contract, EPC now benefits from a corporate telephone system; a corporate IT network and the ability to commission CCTV systems bringing live images from key areas around the country back to Fuluasou.
The successful implementation of the SCADA system called for major communications infrastructure works, including: installation of 30km of multi-core fibre optic cable (underground in Apia area – Fiaga to Tanugamanono via Vaitele and Sogi – and overhead to some outlying areas including the Alaoa Valley); installation of high-capacity radio links to Savaii and eastern region sites; construction of 25 metre and 30 metre radio towers; UHF radio links to remote hydro supply sites.
At Salelologa, Savaii, a back-up Mini Control Centre (MCC) also operates full time, duplicating the functions of the Fuluasou NCC and provides an additional level of back-up in the event of disaster.
The contract value for SCADA totalled SAT$8.4m.
---