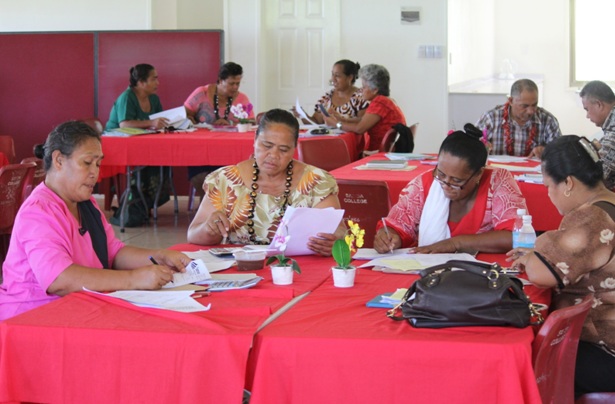 Press Release
16/02/15
Another round of training for some of the Principals and Deputies of both primary schools and colleges took place last week. The training took one week at SCOPA Hall at Vaivase. This is an extension of the Leadership Training from last year with the first 2 modules completed for both Upolu and Savaii participants.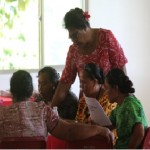 The focus on standards of good leadership as one main aspect of Principals' Key Performance  is acquiring appropriate skills. The conclusion of Module 3 highlighted Curriculum and  Assessment Planning as well as Financial Management.
More than 40 participants attended and they were willing to learn new skills through shared  activities and constructive methods offered by the trainers. Attendance was one important  element of the training with the intention that the teachers will practise these skills once they  resume their duties in schools next week.
The training was conducted by Education Consultant, Gatoloai Tilianamua Afamasaga.
Alaifea Laititi Sua, the team leader of consultants for the Samoa School Fee Grant Scheme (SSFGS) also assisted with budgeting and financial management training.
According to the trainers, they observed the participants' anticipation to complete the course by creating a network to share the skills they obtain as well as the need to practise using these skills in leading their own schools.
It is planned that the final stage of the training will take place next month.
_______________________________________________________________________________
O le vaiaso na te'a nei na fa'ama'ea ai se tasi o vaega o a'oa'oga mo nisi o susuga i Pulea'oga ma Sui Pulea'oga mo Kolisi ma A'oga Tulagalua i Upolu. O le polokalame fa'aauau lea a le Matagaluega mo le saga tapu'eina pea o tomai ma agava'a i tulaga o ta'ita'iga ma pulega talafeagai mo le fa'afoeina o a'oga ta'itasi e i latou ua tofia e galulue i tiute fa'apulea'oga po'o pulelua foi.
O le laasaga lona tolu lea ua fa'ama'eaina mo Upolu i lenei vaiaso, ina ua ma'ea ai foi laasaga e tolu mo le aufaigaluega i Savaii, ma talia ai loa le laasaga lona fa, o le fa'aiuga ai foi lea o le fa'agasologa o lenei polokalame.
O le auga lava o lenei polokalame fa'alea'oa'oga ia mafai e susuga i pulea'oga ona ausia nisi o tomai ma agavaa e fesoasoani ai i le ta'ita'iga o a'oga. O le fa'amamafa o le laasaga lona tolu, e aofia ai le Fuafuaina o Mata'upu A'oa'oina ma Fuataga fa'atasi ai ma le fuafuaina o tupe i tulaga o fesoasoani pei ona fa'atupeina ai a'oga a le fanau i lenei vaitau.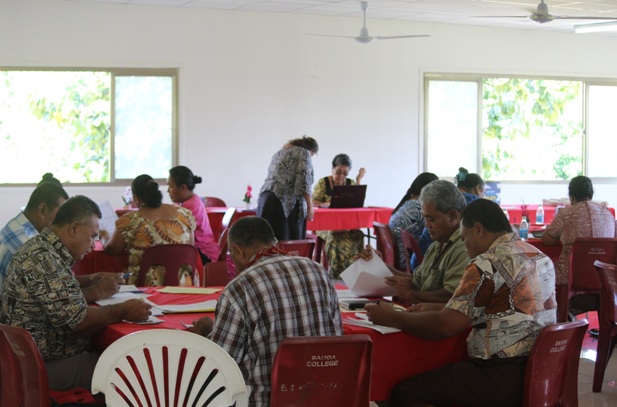 O lenei polokalame sa faatautaia e le susuga a Gatoloai Tilianamua Afamasaga, o ia foi o le Faufautua Faapitoa mo A'oa'oga fa'atasi ai ma le susuga a Alaifea Laititi Su'a, o le ta'ita'i o Faufautua Fa'apitoa mo le faatupeina o a'oga a le fanau.
Molimauina e le susuga a Gatoloai le taua tele o lenei a'oa'oga mo sui auai e le gata i le galulue fa'atasi, o le mafai ona fefaasoaa'i manatu aemaise o le silafia ma fa'amasani mo le galulue so'oso'o taua'u i soo se vaega e moomia ai le fesoasoani aua le tauaveina o o latou tiute fa'ata'ita'i.
Ua iai le fuafuaga e fa'aauau le laasaga lona 4, o le vaega mulimuli foi lea o lenei polokalame i le masina fou ma fa'aiu aloa'ia i le tufatufaina o tusi pasi mo sui auai e ausia fa'anaunauga uma pei ona moomia.
###