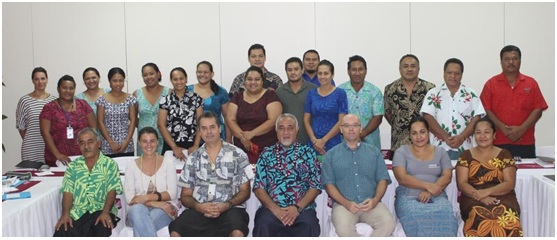 Press Release
17th February 2015
Today, the Ministry of Natural Resources and Environment (MNRE) through ICCRIFS project is working with Conservation International to review the major scientific findings of their project on improving the resilience of upland forests of Samoa to climate change.
Based on these findings, management plans will be produced for Lake Lanato'o National Park and the Lauli'i to Falevao community areas in Upolu and also the Mauga-o-Salafai National Park in Savaii.  These plans are a first for Samoa and a first for the Pacific Islands as they will consider the impacts of climate change alongside the other pressures, and propose management actions whichwill improve the resilience of these sites.
In Samoa, climate change is expected to increase average temperatures, change rainfall patterns and also increase the intensity of cyclones. These changes may impact the forests directly, but also have impacts on individual native and invasive species by moving the location of their natural 'range'.
The project, known as Integration of Climate Change Risks and Resilience into Forestry Management in Samoa (ICCRIFS), is supported by the United Nations Development Programme (UNDP) and the Global Environment Facility (GEF).
###