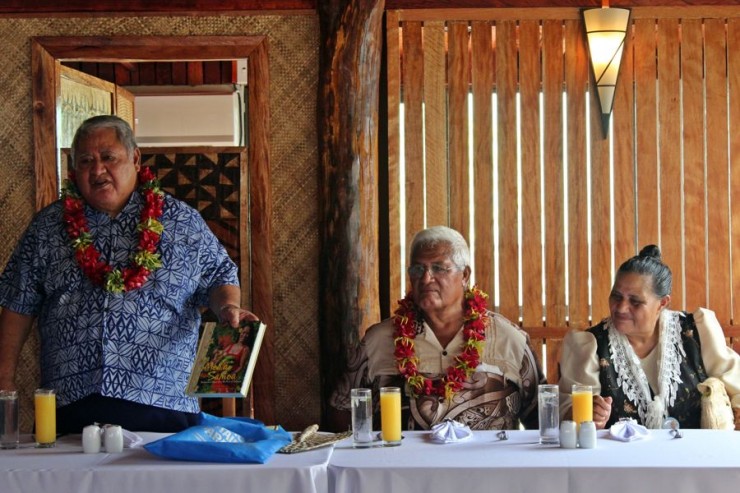 Prime Minister and Minister for the Samoa Tourism Authority, Susuga Tuilaepa Sailele Malielegaoi officially opened the Eleventh Commandment Restaurant at Vaitele Fou this morning.
The restaurant, situated on Ma'ali Street, is owned by Reverend Elder Popo Su'a and wife Epenesa and their children.
Rev Ruperake Petaia, who lead the blessing for the ceremony, noted that biblical teachings only mention Ten Commandments.  Elder Su'a explained that although the Bible only speaks of Ten Commandments, he was inspired to use "The Eleventh Commandment" from his work spreading the Good Word over the last forty years as a Minister for
the Congregational Christian Church of Samoa in New Zealand.
"The Eleventh Commandment is the 'To Dine Within'," explained Elder Su'a.
He went on to say that he had provided spiritual nourishment for the last 40 years, so this is an extension to his work in service for the community.  Elder Su'a also owns Nesa's Cafe and the Ice Cream Parlour situated at Faleolo International Airport.
In his address, Susuga Tuilaepa revealed that the opening of this restaurant contributes to the Government's drive to attract tourists to our shores, adding that Samoa should record a million visiting tourists in the near future.
The Prime Minister acknowledged the initiative by Elder Su'a and his family which he said will be a great addition and attraction for the development of tourism in Samoa.
"Samoa's future developments are anchored by tourism," he said.
The Prime Minster also offered words of advice on good hygiene and great customer service for the hospitality and tourism sector.
###