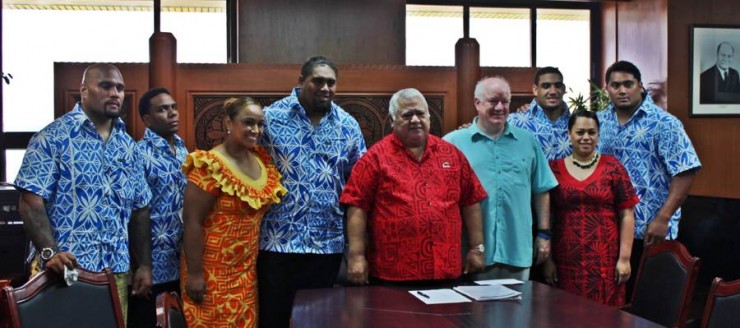 American Football stars in Samoa, as part of the National Football League Players Tour to Samoa, today visited the Prime Minister on the first day of their five-day tour schedule.
The Ministry of Education, Sports and Culture, in partnership with the Paul Soliai Foundation and the U.S. Embassy, have brought NFL stars Paul Soliai, Isaako Aaitui, Olivier Vernon, Koa Misi and Samson Satele to Samoa for the second tour in as many years.  The sportsmen will visit schools, run football clinics and speak to school communities to promote fitness, nutrition and ways to combat non-communicable diseases.  Local coaches assisting with the program are Leapai Richard Brown, Edwin Mulitalo, Agatupu Lefao, and Eli Kapu. 
The tour includes a courtesy call on the Head of State, school visits to LDS Church College, Avele College, St Joseph's College, Sauniatu Primary School and a visit to Rugby Academy Samoa.