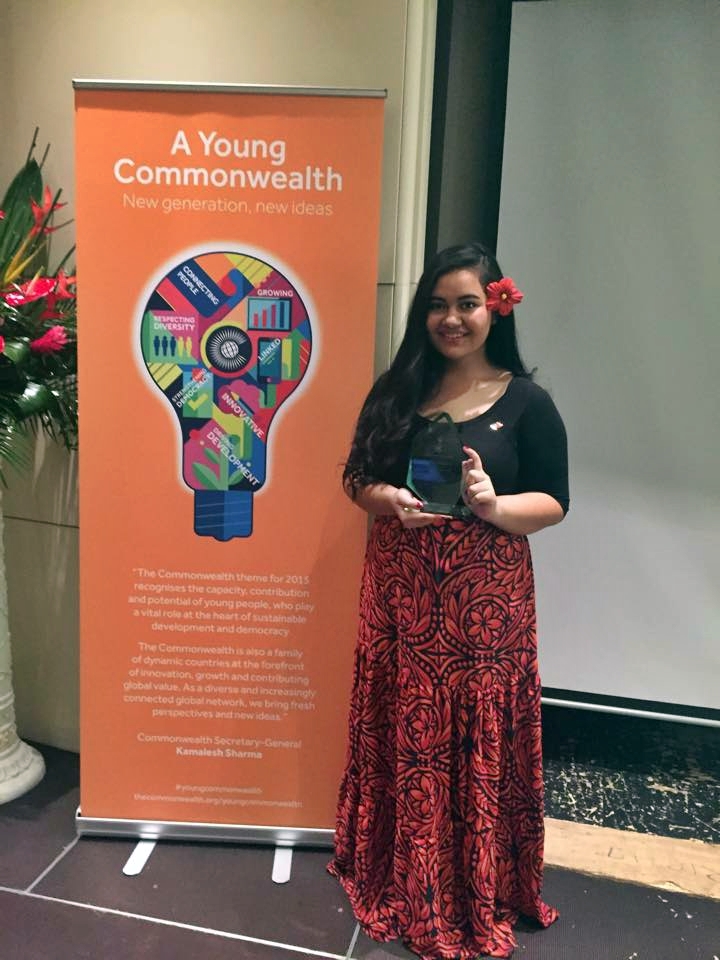 Young Samoan leader, Miss Brianna Fruean, has made history with her milestone achievement as the youngest ever winner of a Commonwealth Youth Award.
At just 16, Brianna – who won for the Pacific region – was one of four winners chosen from across the 53 Commonwealth countries, and recognised on 10th March 2015 in London for Excellence in Development Work.
Brianna founded an environmental NGO, 'Small Voices', when she was 11, advocating for climate change awareness through projects and programs that have helped Government's climate change mitigation efforts, such as tree-planting projects and establishing inter-school networks to highlight environmental issues.  Miss Fruean is also the leader of 'Future Rush' – an environmental group that mobilises youth to run sustainable development projects in their communities.
Whilst in London to accept her award, Samoa's self-professed 'Climate Change Warrior' met and spoke briefly with HM Queen Elizabeth II,
"It was so exciting to meet her, the rest of it was a blur but I remember she said that 'yes climate change affects everyone'."
Brianna was also given the honour of flag-bearer for the Commonwealth flag at a service at Westminster Abbey.
The 16 year old Robert Louis Stevenson School student describes her Commonwealth Youth Award as a great honour.
"I was over the moon when I was told I was a finalist for the Pacific, and then to win it was an honour, especially knowing the extraordinary young people who were nominated alongside me," said Miss Fruean.
Speaking at the awards ceremony, Brianna highlighted the plight of the Pacific peoples in their fight against the effects of climate change,
"I would like to dedicate this award to the climate refugees, to the people living in the Pacific islands and other small islands that suffer from the effects of climate change every day and to my fellow Pacific warriors fighting for climate justice. We are not drowning, we are fighting."  Brianna also dedicated her award to her late father Raymond Fruean and her mother Pauline Gabriel Fruean who accompanied her to the ceremony.
The awards ceremony was streamed live online, and can still be seen on the following link:  Commonwealth Youth Awards Ceremony, 10 March 2015. Brianna's award was given at 22:50
The Commonwealth Youth Awards celebrate young people under 30 from Commonwealth countries in Africa, Asia, Pacific and Caribbean and Americas whose work has had a significant impact on people and communities in their country or region.
The four Commonwealth Youth Award winners for Excellence in Development Work, from across the four Commonwealth Regions:
Africa – Mr Julius Shirima from Tanzania
Asia – Ms Gulalai Ismael from Pakistan
Caribbean & Americas – Ms Nolana Lynch
Pacific – Miss Brianna Fruean