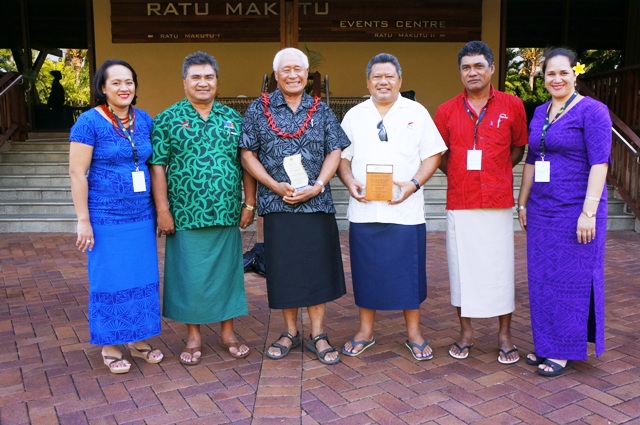 The Samoa delegation headed by the Honourable Minister of Health,Tuitama Dr Leao Talalelei Tuitama accepted the "Best Proposal Award" during the 11th Pacific Health Ministers Meeting, currently being held in Yanuca Island Fiji, 15 -17 April 2015.
The "Best Proposal Award", was presented by the World Health Organisation (WHO) in recognition of addressing Non Communicable Diseases (NCD) for Pacific Island Countries. Samoa submitted its proposal showcasing one of its community-based effort titled "Non-communicable diseases: early detection and management through community participation".
This NCD program is part of Government's efforts in addressing and combating the current NCD crisis in Samoa.
The 11th Pacific Health Minister Meeting is a biennial event attended by all Ministers of Health from all Pacific Island Countries to review, discuss and make recommendations on the implementation of the Healthy Island vision which comprises of:
Children who are nurtured in body and mind
Environment invite learning and leisure
People work and age with dignity
Ecological balance is a source of pride
The ocean which sustains us is protected
In Samoa, Non Communicable Diseases (NCDs) pose a major challenge to key domains of Healthy Islands due to the high level of morbidity, disability and premature mortality resulting from NCDs.
The latest Samoa STEPS survey from 2013 showed improvements in some of the risk factor behaviours such as tobacco and alcohol use, reporting a reduction by more than 10% respectively in last ten years, however, obesity and high blood pressure continues to increase and diabetes has almost doubled in the last ten years with a prevalence of 45.8%.
To address the burden of NCDs in Samoa, a village demonstration project on NCD early detection and management through community participation has been initiated by the Ministry of Health, Samoa with support of WHO targeting NCDs, mainly Cardio Vascular Diseases and diabetes. It is called PEN Fa'a Samoa – Package of Essential Non Communicable (PEN) Disease Interventions for NCDs in the Samoan way of life. The village project aims to address key issues in the health system delivery: integrate village outreach service for NCDs to ensure early detection and increase awareness of NCD risk factors, establish referral to district health facility for treatment and follow up. The demonstration project at the village level is community-based, integrating principals from the Healthy Islands Vision to deliver a core public health intervention on NCDs comprising of individual, peer, family and community mobilisation components.
The project was launched in November 2014 under the leadership of the Ministry of Health with the assistance from the National Health Service, and support of W.H.O. Groundwork took place in the selected participating villages from December to February 2015 with the emphasis to enrich the understanding of NCDs in the district health facilities involved and work with the members of the women's committee.  In March 2015, the results of the first round of outreach showed a total number of 1200 people screened and around 40% of these people are set for referral to the closest district hospital. Next steps are to review the case management of referred patients and follow up their treatment schemes.
It is becoming clear that the key for success will now depend on operationalization of policies and strategies at peripheral level. The PEN Fa'a Samoa could be an example of the next steps to support the implementation of the Healthy Island vision.
The award that was presented to Samoa at the meeting is a World Health Organisation recognition award. There were two "Healthy Islands" awards presented:

1) Best Practice and

2) Best Proposal.
Seventeen applications were submitted for the "Best Practice" award, and the recipient for this award was Tokelau, in recognition of the ban of "Fizzy Drinks" in Tokelau.
For the Best Proposal award, six countries submitted proposals, and this award was awarded to Samoa. Samoa's proposal included the contextualizing and adopting of the WHO PEN mechanism to meet Samoas own cultural setting which was applauded by WHO.
The Samoa Delegation also includes the Director General of Health/CEO, Leausa Toleafoa Dr Take Naseri, General Manager of National Health Service, Leota Laki Sio, General Manager of National Kidney Foundation of Samoa, Mulipola Roger Hazelman, Legal Consultant, Delphina Taoa Kerslake and Principal Officer Adele Keil from Ministry of Health, Samoa.
###