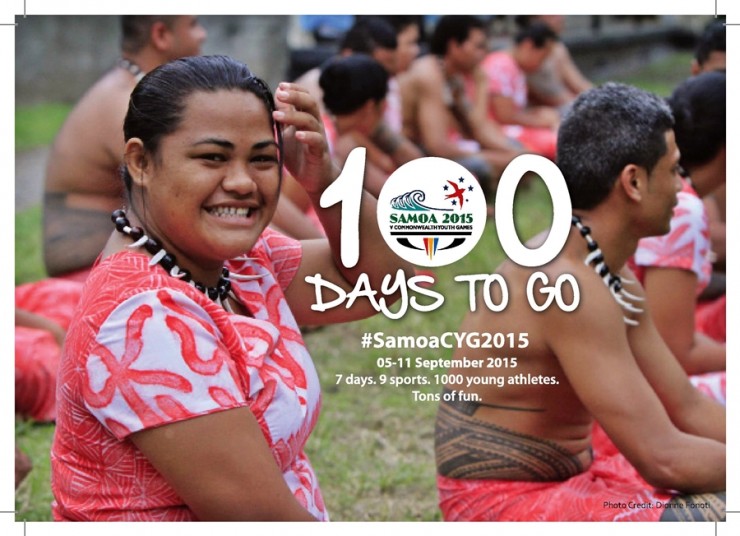 MEDIA RELEASE
28 May 2015
In just 100 days, up  to 1000 young Commonwealth athletes aged 14-18, including 159 athletes and team officials from Team Samoa, will compete for 107 Gold Medals in nine sports over five days at the Vth Commonwealth Youth Games hosted in Samoa from 5-11 September 2015.
The Commonwealth Youth Games are the springboard to future Commonwealth Games glory and for many, a formative first taste of international multi-sport competition.   The Games will be a joyous celebration of high-performance sport, personal development and new Commonwealth friendships made on the level playing field of sport.
Chairman of the Samoa 2015 Commonwealth Youth Games Organising Committee, and Prime Minister of Samoa, Tuilaepa Lupesoliai Sailele Malielegaoi said:
"Practically our entire small island community from sports associations and athletes, to the public and private sector, to our citizens and communities have all banded together to prepare to welcome and host Commonwealth athletes, officials, dignitaries, supporters and visitors in 100 days time.
Samoa is a Small Island Developing State in the Central Pacific and sport and recreation is a hugely important part of our island life and culture. With this close affinity to and appreciation of sports and its rewards and benefits, our island nation and community stands ready and eager to extend to all athletes and visitors a very warm welcome and to ensure that the Samoa 2015 Commonwealth Youth Games will not just be the most memorable but a lasting legacy for all."
The action will take place in Apia and across two sporting complexes that will play host to Aquatics (Swimming), Archery, Athletics, Boxing, Lawn Bowls, Rugby Sevens, Squash, Tennis and Weightlifting.
Like the Commonwealth Games, all athletes will stay in village-style accommodation and events comply with International Federation technical rules and regulations, giving many competitors their first taste of an international multi-sport environment. World anti-doping standards also apply.
Off the field of play, the Youth Games nurtures the next generation of global sporting citizens by focusing on friendship, integrity and cross-Commonwealth inter-cultural exchange – learning and living the Commonwealth Games Federation's values of Humanity, Equality, Destiny.
Mr Patrick Fepulea'i, Samoa Association of Sports and National Olympic Committee President said:
"Team Samoa's young athletes are currently preparing to compete with, as well as, play host to the Commonwealth.  Competing on home soil will be once in a lifetime experience for Samoa's young athletes and a great opportunity for the visiting Commonwealth youth to enjoy an island experience that is uniquely Samoan.
The Samoa Commonwealth Youth Games will provide Commonwealth Youth the chance to enjoy a culture that will leave lasting impressions and lifelong friendships.  The young athletes will also experience the diversity that the Commonwealth of Nations represents."
Launched in 2000 and now in its 5th edition, the Youth Games are a sustainable opportunity for smaller cities and nations to benefit from hosting a major sporting event, using predominantly pre-existing venues (in Samoa's case constructed for the 2007 Pacific Games) whilst also promoting an inclusive and positive youth agenda.
With 50% of Commonwealth citizens aged 25 and under, the Youth Games play a vital part in the Commonwealth Games Federation's vision to inspire Commonwealth athletes to drive the ambition and power of all Commonwealth citizens through sport.
ENDS