Closing Address Independence 2015 by Prime Minister Tuilaepa Sailele Malielegaoi,
1 June 2015, Malae i Tiafau
With much respect, on behalf of His Highness the Head of State as well as the Government of Samoa, I express our heartfelt gratitude to all our invited and distinguished guests by honoring us with your presence.  Your gracing our midst has without a doubt been a highlight of our Celebrations this 53rd Anniversary of Independence.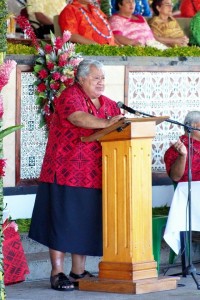 Worthy of mention is the Hon. Prime Minister of the Kingdom of Tonga and your prestigious contingent, the Lieutenant Governor of American Samoa, the Titular Head of Tokelau as well as your good ladies.  We sincerely hope you enjoyed your time with us.
I wish to congratulate the various performers for your lively and exciting entertainment to the delight of our guests and spectators.  Above all, my appreciation to all members of the Clergy for their fervent prayers, continuously seeking and pleading for God's favour upon this Nation.
We have now come to the culmination of this year's program.  As with any execution there is a time, and a season for every activity under the heavens.
Yesterday evening we commenced our Celebrations with a Dedication Service led by the National Council of Churches.
Earlier today we applauded and waved to the countless schools, organisations and groups that filed past this stadium in their colourful uniforms and radiant, smiling faces.
With the sun now slowing setting, giving way to the night that will be upon us soon, we pause to reflect once again on the achievements of yesteryear, yet at the same time ponder pensively with a hint of uncertainty on what tomorrow might bring to launch us in to the future.  I believe only God knows and only He alone can see far beyond our todays.
For us as a small island developing nation, we have the challenge of being able to take care of our own affairs.  We are required to ensure that those young people who marched and waved excitedly this morning are guaranteed jobs to take care of them and their families in the future.
Acknowledging the realities and adversities highlighted in the recent UNSIDS Conference, it is our priority to consider seriously increasing our developmental efforts, to boost productivity in all areas and to ensure economic resilience and sustainability through our very own toils and hard work.
The stark reality for Samoa and perhaps for other Pacific island countries that have acquired sovereignty is that "To be truly independent, it is no longer having to rely on the help from other countries, but to be self-sufficient, fully dependent on our own resources, in the confidence that as God is our Provider, we can boldly stand on our own two feet and enjoy "True Independence."
I wish to acknowledge and thank our donor partners who have been of immense assistance, rendering support in various forms for the benefit of our country.  I hope that we can continue to enjoy the durable partnerships and friendly relationships that have been developed between ourselves over the past years.
In closing, to all our distinguished guests and friends from abroad, as you take your leave, may God's travelling mercies go with you and may God continue to richly bless Samoa.
Soifua
---
LAUGA AFIOGA I LE PALEMIA, SUSUGA TUILAEPA SAILELE MALIELEGAOI
TAPUNIA ALOAIA FAAMANATUINA O LE TUTOATASI 2015
Ua tatou to'ai taunuu nei i le malu afiafi o le taulaumea ma ua faapopo foi o ni aso ua ao aso folau e le tuua.  Ae sei tatou mua'i alofaiva i le taualuga tusa o aga o faigapoula a Samoa.
Ua ou tula'i atu ai i le ava tele ae a le paū o le tuaau mafuamalu, a o le faasouga foi o ao ma le atu folasa, ou te faaleo ai le agaga faafetai o le Ao Mamalu o le Malo ma tulaga tofi faalupea o le Tafatolu Fefaatauagai o le Malo Tutoatasi o Samoa, tainane le Komiti o Tapenaga aua tatou Malo faaaloalogia ua auai i le asō – o le Aso Faamanatu o le 53 Tausaga o le Tutoatasi o Samoa mai Pulega sauā faakolone.  Aua ua 'au'au tetele le asō i lou tou auai mai.
Faapito augafa le faafetai i lau Afioga i le Lutena Kovana o Amerika Samoa ma lau Masiofo.  O paia lava ia faasino i le Faleagafulu ma le Nofoa Maopu le Laau na Amotasi Faatui ma Tootoo o le Faleula.
Faamalo ia i latou na atofa e faafiafia.  O lupe lava na fā'ia mai le fuifui.  Ua to lou tou matūpalapala. Faafetai i le taputapuai lē leoa a Samoa i ona tulaga faalupelupe o Aiga ma a latou Tama ma le Usoga a Tumua ma Pule e Ono i Salafai. Ae Matua lava le Tuu i le Aufaigaluega Paia a Le Atua ma lo latou faanonoga manū e le aunoa ina ia faaifo mai Lagī manū mo Samoa nei ma Eluā.
O aso fiafia faapenei o le Fu'a o la tatou Tutoatasi, e lē na ona faamanatu o ananafi.  Ae avea foi o se faatupu manatu mo a taeao ma ona mau lu'itau ma auala fou e foia ai.  Sa foleni fiafia i le malae i Tiafau i le taeao nei a tatou fanau.  Sa o tatou patipati, talotalo ma alalaga fiafia i le felanulanuai o latou togiga ma foliga tausaafia, ao tua atu o na foliga pulato'a o loo lālā vale matilatila mai ai le faapoga – O ni galuega ia lava mo i latou.  O mea anoa ia e ave i ai le faamuamua i nei vaitau.
E tupu pea le mausa fai fanau. E totogo a'e faatasi lava ma ona lu'itau.  O le tāua o le Fu'a i tausaga uma o le sami o matāti'a ua ausia, ae o se laolao foi tatou te manatunatu loloto ai i auala e foia ai le mau lu'itau o loo i tua o tatou faiga foleni o taeao taupoina faapenei.
Pe afai tatou te foia lu'itau nā ma tatou lē toe faalagolago i le alofa tunoa o isi Malo – o le Tutoatasi moni lenā e ao ona sailimalo ai Taitai o Samoa o le asō ma a taeao.  O le mau e faaauau e o'o lava i le faavavau.
Faata'i so matou leo o le a lē faamatafauloaina – Pe a tatala le Filiali'i ma Tu'uama le Fua, ia faalaolao e le Atua o Manū ala ma peau o le vasa – ae faaifo mai lagī manū mo Samoa.
Soifua.
###