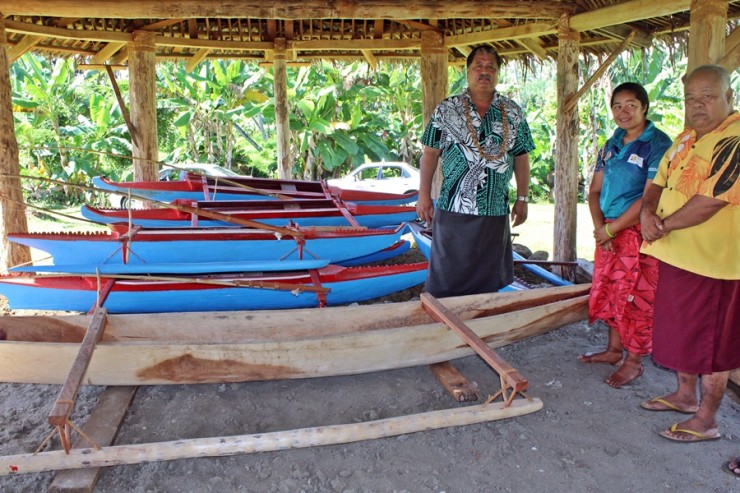 [Pictured: Director of Samoa Culture Centre, Maulolo Tavita Amoa; Captain of the Gaualofa, Fealofani Braunn; Board Member of the Aiga Folau Society, Tupai Molesi Taumaoe]
A traditionally made paopao (canoe) was presented by the Samoa Culture Centre for the Aiga Folau o Samoa Society this morning at Falelauniu.
The paopao will be used to support the Society's traditional double-hulled canoe, the Gaualofa Vaatele, as transport between the Gaualofa and shore, replacing a gas-motored rubber dingy currently being used.
The Culture Centre Director, Tofa Maulolo Tavita Amosa, said he was very happy to support Aiga Folau Society with the paopao as it reflected more of Samoa's historical and traditional sea-voyaging prowess, as well as Gaualofa's cultural and environmental mission as it journeys around the region and the world.
Aiga Folau Society Board Member, Afioga Tupai Molesi Taumaoe thanked the Culture Centre for the gift.
"On behalf of the President of the Society, I acknowledge the tremendous assistance you have given to the Gaualofa, especially the Aiga Folau o Samoa.
"You went miles ahead and donated this paopao and I'm sure that the captain and the crew will make use of it for the benefit of its mission," said Tupai.
The traditional gift is also recognition of the first Samoan – Fealofani Braunn – to Captain Gaualofa using traditional and modern Navigation methods.
##