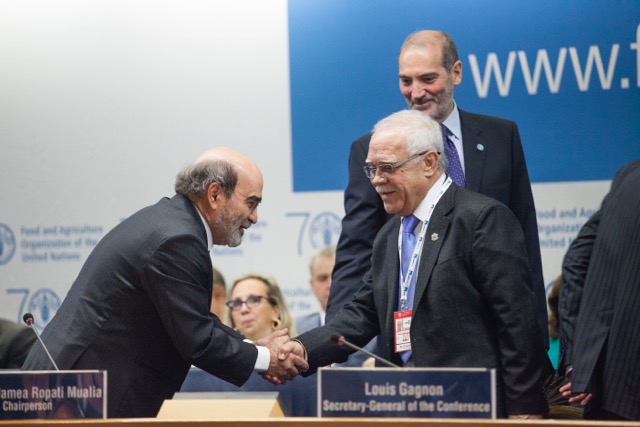 A few short days ago in Rome, Italy where Minister of Agriculture Le Mamea Ropati Mualia is currently presiding as Chairman of the 39th Session of the FAO Conference, Samoa was recognised with an award for satisfying the World Food Summit Goal "to eradicate hunger in all countries, with an immediate view to reducing the number of undernourished people to half their present level no later than 2015."

The goal, which also links in with Millennium Development Goal 1.c to "halve, between 1990 and 2015, the proportion of people who suffer from hunger", was established at the 1996 World Food Summit held in Rome.
A total of 72 out of 194 countries of the UNO/FAO have now reached this commitment.
"This is a great achievement by our country and we ought to be proud of it. This is also a reflection of the great contribution by our small family farmers in carrying out their obligations by working in conjunction with the Ministry of Agriculture.
"My advice is to keep up the good work and work out strategies to make sure that the momentum now achieved be further developed and sustained," said Le Mamea. – Le Mamea Ropati Mualia.
In 2013, Samoa was presented with an award for achieving MDG Target 1.c – two years ahead of the end date.
###