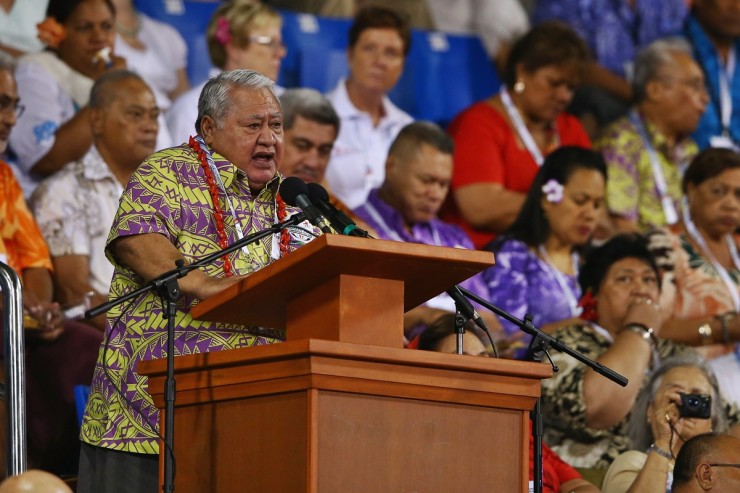 SAMOA COMMONWEALTH YOUTH GAMES 2015 OPENING CEREMONY SPEECH
BY THE PRIME MINISTER AND CHAIRMAN
OF THE ORGANISING COMMITTEE
5 SEPTEMBER 2015, APIA PARK
Lau Susuga i le Taitai o le Sauniga
Your Highness the Head of State
President of the Commonwealth Games Federation
Member of the Council of Deputies
Honourable Ministers
The Commonwealth Secretary General
The Chief Justice
The Speaker and Members of Parliament
Members of the Diplomatic Corp
Distinguished Guests
Young Athletes of the Commonwealth
Ladies and Gentlemen,
Ou te faamalulu atu – e le o se 'ai avea le molimoli o le tatou Lauga faafeiloai i le Gagana e malamalama uma ai Tupulaga Talavou Taaalo o Malo uma o le Taupulega, tainane i latou uma o le lalolagi atoa o loo sila maimoa mai i taualumaga uma o le Tatala aloaia o Taaloga nei a Malo o le Taupulega i lenei itula afiafi.  E faapito augafa ai le faamalo ia tatou lava tama fanau ia sagai ane ai o le Tai, ma faaosofia moe galuega ia outou taumafaiga ia tau se ai mo le Tapuaiga a Samoa.
On behalf of His Highness the Head of State, the Government and People of Samoa, I wish to warmly welcome to Samoa all the visiting young athletes, their coaches, families and supporters. I would also like to extend a special welcome to the President and representatives of the Commonwealth Games Federation. I wish also to warmly acknowledge and welcome the Commonwealth Secretary General.
Hosting the 5th Commonwealth Youth Games is a great sporting and historical moment for our small Pacific island country. It culminates an undertaking made four years ago when Samoa was formally handed, at the closing ceremony of the 2011 Isle of Man Games, the honour of hosting the 5th Commonwealth Youth Games. I would like to thank the President and the Commonwealth Games Federation for granting Samoa the opportunity and for their patient advice at each step of the way in making the Games here in our part of the Pacific a reality.
The focus of course of this evening and the events of the coming week is on the young athletes of our Commonwealth family. In all our Commonwealth nations, young people make up a very large component of the population, and in some countries the major part. It is not just mere rhetoric when young people are referred to as "the future of the nation". It is the absolute truth, and it is why that whenever possible, good initiatives that develop potential and build character to help prepare young people for the responsibilities of adulthood, should be supported. The Commonwealth Youth Games is such an initiative that fosters early in young people the spirit of hard work, sacrifice, discipline and doing one's very best whatever the circumstances. The Youth Games are also about camaraderie, mutual understanding and respect. Supporting the Commonwealth Youth Games and the honour of hosting it here in Samoa are about all of these very important values and ideals.
For the majority of our own local young athletes, bringing the Games to Samoa also represents a very "hard to come by" opportunity to compete against top age group athletes from around the world, which would otherwise be difficult when the Games are held abroad.
To our local young athletes and to all the visiting young athletes from around our Commonwealth family of nations, I know that you will represent your respective countries with honour and pride. You also do not need me to tell you to do your very best and even exceed your very best. Just remember to always compete fairly and with honesty. I wish you all a successful and enjoyable Games.
To all the visiting coaches, supporters and family members of athletes from overseas, I wish you an enjoyable time at the Games and in our country during this period of our Teuila Festival as well.
Finally, I thank the President of the Samoa Olympics and Sports Federation and his team, the volunteers and everyone involved in organizing the 5th Commonwealth Youth Games.
Thank you.
Faafetai. Soifua.