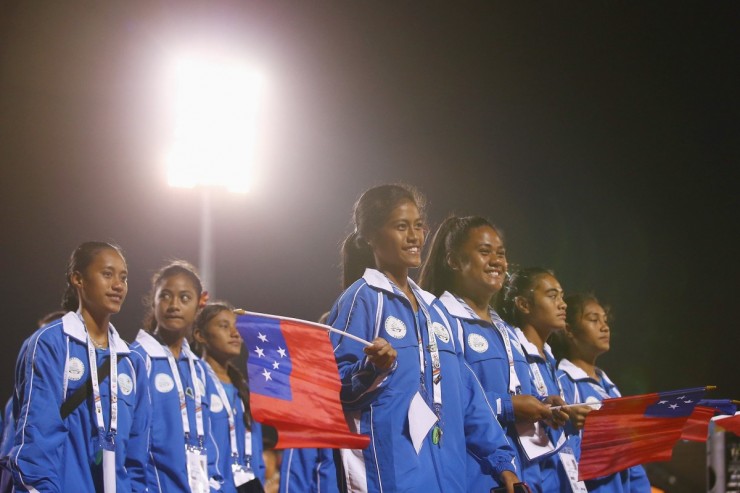 With the first day of competition already underway, Samoa is already making history as host of Commonwealth sporting action at the Vth Commonwealth Youth Games.
Following an impressive Opening Ceremony on Saturday, seven of the nine sports kick off today, Monday 7 September, across two sporting complexes.
The Athletics and Tennis action starts at Apia Park Complex, with Aquatics, Boxing, Lawn Bowls, Squash and Weightlifting all commencing at Tuana'imato Sports Facility. Events include the 100m and 1500m finals of Athletics and 200m Freestyle, 200m Butterfly and 100m Backstroke Swimming finals.
Representing Samoa:
Athletics includes Claudia Osborne, Miriama Mefiposeta, Faye Sinei, Mathew Kolio, Daniel Talivaa, Esekia Lomiga, Leo Tiasasa, William Brown, Tenisi Lui, Robert Sio, Keola Meatoga, Kadel Key, Nathaniel Sulupo and Gerard Ah-Nau.
Tennis features Kelsey Manuatu, Harley Cronin, Sauleone Anasis Saipele, Amosa Junior Di-Ge Reupena and Ethan Samau.
Aquatics includes Teofilo Molioo, Sosefina Sooaemalelagi, Brandon Schuster, Alania Suttie, Matthew Schuster, Teofilo Molioo, Sitivi Sooaemalelagi, Selina Ripley, Ariel Ioane and Theresa Strickland.
Boxers are Lailoa Aupaau, Ropati Potoa Hall.
Lawn bowls competitor is Romania Manamareta Pose.
Weightlifting has Jim Saofaialo, Siilata Kolisi.
Commonwealth Games Federation Chief Executive David Grevemberg, said: "After a genuinely inspiring opening event, our attention now turns to the field of play and the sporting competition about to take place between our young Commonwealth athletes, many experiencing a multi-sport environment for the very first time. Samoa and its people should be rightly proud of all the work they have done to stage this significant event – and the athletes are ready to deliver clean and impactful sporting performances that engage and inspire Samoa's crowds and communities".
There are 16 sessions on the first day of competition across the nine sports presented, with 22 Gold Medals contested in Swimming, Athletics and Weightlifting. The remaining two sports, Archery and Rugby Sevens, start on Tuesday and Wednesday respectively.
###