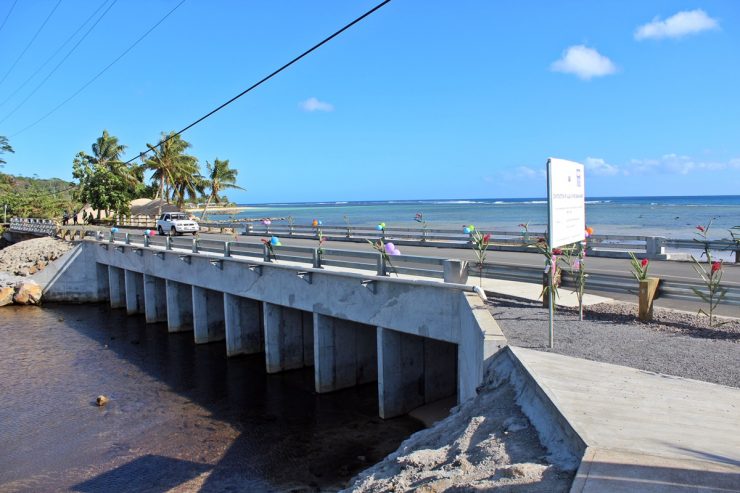 29 July 2016
New bridge and river embankment opened
Cabinet officially opened the new river embankment and bridge at Salei'a, Savaii yesterday morning.
The opening address was delivered by the Prime Minister, Tuilaepa Sailele Malielegaoi, who acknowledged the important contribution of the Salei'a community, development partners and government agencies working together to address issues of climate change in Samoa.
The project was a partnership between the village of Salei'a, United Nations Development Fund and the Government of Samoa.
Funding was provided through the Global Environment Facility's Adaptation Fund, implemented through the Ministry of Natural Resources and Environment via UNDP in Samoa.  The Adaptation Fund is set up to finance concrete adaptation projects in developing countries that are vulnerable to adverse effects of climate change and are parties to the Kyoto Protocol.
Prime Minister Tuilaepa referred to Samoa's vulnerable coastal communities, and highlighted Salei'a village's challenges.
"We can all see that Salei'a village is not only ocean-facing, but there is a river that runs through it so it is particularly vulnerable to climate change.
"Residents face dangerous conditions during times of adverse weather such a heavy rainfall and storm surges.
"Today we see the results of months of hard work that began in June 2015.  The cement bridge is 30 meters long and the river embankment is 700 meters long and has been built to last another 50 years.
Tuilaepa emphasised that government did not discriminate between Savaii and Upolu when considering the country's development.
"Salei'a first, then Vaisigano. As I always say, what is good for Apia is also good for Savaii and other rural areas. Government does not waver in its drive to see a fair share of development across all of Samoa," he said.
The project was funded through the Adaptation Fund at a cost of $2.3 million tala and was implemented by the Ministry of Natural Resources and Environment.  Construction works were undertaken by Apia Lua Ltd under the supervision of Tinai Gordon and Associates Ltd.
###