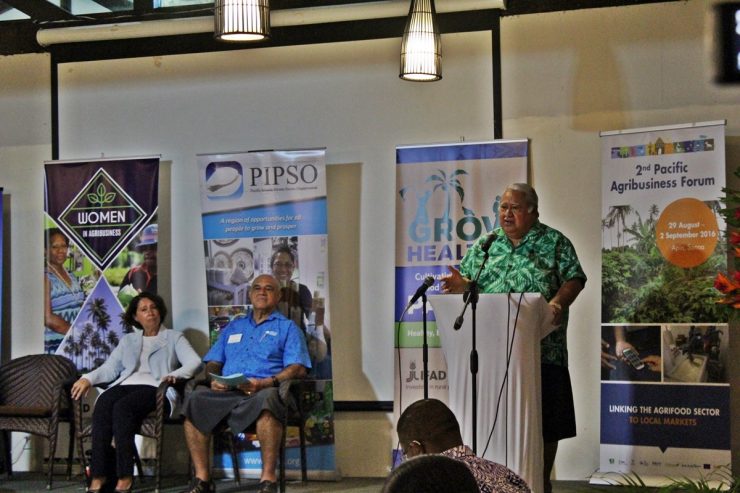 30 August 2016
Pacific Agribusiness Forum Opens
Linking the Agrifood sector to the local markets for economic growth and improvement of nutrition and food security is the focus of a three day meeting being held in Apia this week.
Prime Minister Tuilaepa Sailele Malielegaoi officially opened the meeting this morning at the Tanoa Tusitala Hotel.
The Agribusiness Forum is part of an annual initiative that was launched at the UN SIDS Conference held in Samoa in September 2014 by CTA and the Pacific Private Sector Organisation (PIPSO).
The Prime Minister in his speech said the forum allows time to reflect on the lessons learnt from the business models we have been using, and linking these to a pathway towards the achievement of sustainable economic growth and nutritional objectives of the region.
Around 100 experts representing the private sector, farmers' organizations, policy makers, research networks, development practitioners and international organizations are engaged in this meeting.
The objectives are,
To review policy and marketing strategies that can help countries to realise and increase demand for higher quality and healthier foods and agricultural products and identify further opportunities for linking small scale farmers to consumers in local, regional and tourism markets to increase sustainable local sourcing and healthy diets;
Generate ideas for a regional project on sustainable sourcing by the tourism industry from small scale farmers and the local agribusiness sector;
and Identify support, institutions and strategic alliances needed to strengthen relations between chain actors on selected markets in the Pacific.
The Prime Minister said the Pacific has traditionally enjoyed comparatively good food security, mainly due to subsistence farming, trading and selling products, fishing and hunting.
"Now, this historic food security is being eroded by urbanization and a growing reliance on cheap and often poor quality imported foods that have little nutritional value," said Tuilaepa.
He also touched on the changes and challenges regarding food security in the Pacific which include changes in both the supply and demand of food; economic shocks, such as recent increases in food and fuel prices, mean that household budgets have to stretch further to buy food, particularly in growing urban areas where access to land for gardening is limited; environmental shocks  etc.
"Controlling the safety of imported food is also an enormous challenge for the Pacific," said Tuilaepa.
"The increasing reliance on imported food, the decline in local food production, the failure to enact and enforce food safety regulations and standards and the shift in food preferences towards convenient, cheap but nutritionally inferior foods are all placing Pacific populations at greater risk of non-communicable diseases (NCDs), vitamin and mineral deficiencies, malnutrition and food-borne diseases.
"Food is the gateway into all cultures. We are blessed with an ocean so abundant in marine life, and fertile soils capable of recovering from the worst of natural disasters that if we only take what we need, generations after us will also be fed from the same food baskets.
"The emergence of tourism as the economic hope, brought with it misconceptions when trying to cater to tourists perceived tastes. As a result, country-specific cuisines slowly became replaced with inferior imported food.
The Prime Minister said the Government of Samoa with the support of our development partners are collaborating to ensure that food security issues are adequately mainstreamed into national and regional climate change adaptation programs.
"We have taken urgent action to influence policies, environment, organizations and individuals contributing to food security.
"We are addressing land, transport, energy and information and communication technology systems that underpin action to achieve food security.
The Prime Minister added that developing and investing in sustainable farming methods is necessary, as is improving the ability of farmers to withstand and adapt to environmental, economic changes and impacts of climate change. Similarly, well managed, health-enhancing international trade, of both exports and imports, is important in maintaining food security."
The meeting is organised by Pacific Islands Private Sector Organisation (PIPSO), The Technical Centre for Agricultural and Rural Cooperation (CTA), International Fund for Agricultural Developments (IFAD), Secretariat of the Pacific Community (SPC) and South Pacific Tourism Organisation (SPTO).
###