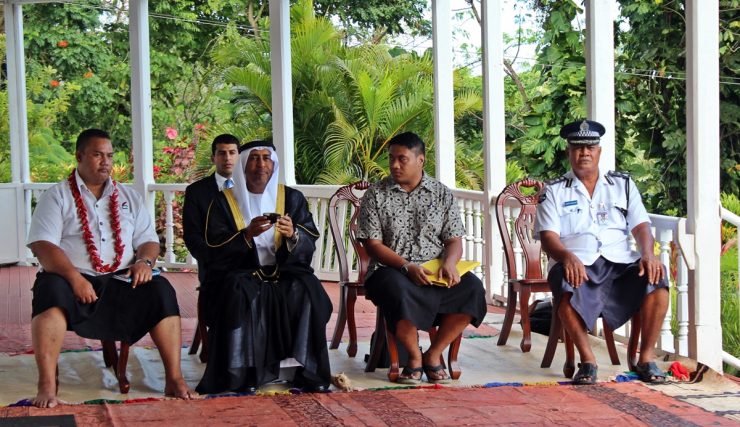 His Highness the Head of State, Tui Atua Tupua Tamasese Efi, accepted the Letters of Credence accrediting the new Ambassador of the United Arab Emirates to Samoa, His Excellency Dr. Obaid Al Hairi Salem Ketbi earlier this morning.
His Highness acknowledged the cooperation through the United Arab Emirates-Pacific Partnership.
"Samoa is thankful for the assistance from the United Arab Emirates for various projects in the Pacific in the education, infrastructure and renewable energy sectors," said His Highness.
"Samoa and the United Arab Emirates further share a common interest in the areas of food security, sustainable development as well as climate change which is of a particular concern to Samoa as a small island state."
His Excellency Dr. Ketbi said his country and Samoa's cooperation is better reflected in the renewable energy sector, an area where UAE is leading globally and is proud to support Samoa Government's plan in meeting its 100 percent renewable energy targets.
"My mission is to focus on developing the bilateral relations. Samoa is a valued friend to the UAE and we invite you to take advantage of the investment opportunities available in the UAE," said His Excellency.
"We look forward to working together in pursuit of our mutual interests in the coming years."
The Head of State also acknowledged the Air Service Agreement between UAE and Samoa, as well as the presence of MASDAR, a renewable energy company from the United Arab Emirates in Samoa, sponsoring the completion of the new wind farms which will supply renewable energy to the people of Samoa.
"I wish you the very best in your tenure as the Ambassador of the United Arab Emirates to Samoa.  I am confident that during your tenure, your office will continue to work towards enhancing the warm relations that our two countries enjoy and promote areas for further cooperation between our Governments," said the Head of State.
###