21 October 2016
His Highness the Head of State, Tui Atua Tupua Tamasese Efi, this week received two delegations from Pakistan and the Federal Republic of Germany.
PAKISTAN
The High Commissioner of Pakistan, H.E. Afrasiab Mehdi Hashmi presented his Letter of Credence to His Highness, Head of State Tui Atua Tupua Tamasese Efi on Tuesday morning.
The ceremony was held at the Head of State's residence at Tuaefu.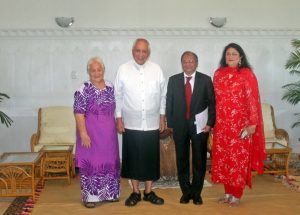 In his speech, Afioga Tui Atua welcomed H.E. Hashmi to Samoa.
"I echo your sentiments on the close and friendly association between Samoa and Pakistan over the years, which has guided our collaborative efforts in maintaining peace and, promoting issues of mutual importance to the development and prosperity of not only our two countries but the international community as well," said His Highness.
"I am also pleased to note your continuing support and pursuit of the issues that are of much importance to both our countries especially climate change and sustainable development.
"I am confident that during your tenure, the close relationship that presently exists between our two Governments will continue and will be further strengthened."
H.E. Hashmi started his diplomatic career when he joined the Foreign Service of Pakistan in 1984.
He was previously posted in Washington DC, Beijing, New Delhi and Bangladesh.
FEDERAL REPUBLIC OF GERMANY
H.E Mr Gerhard Thiedemann, the new Ambassador of the Federal Republic of Germany to Samoa arrived in Apia on Wednesday 19 October 2016 to present his Letter of Credence to the Head of State, His Highness Tui Atua Tupua Tamasese Efi, and meet with Government dignitaries and Non Government Organizations thereafter. The Credentials ceremony took place on Thursday morning at the Head of State's residence at Tuaefu.
Ambassador Thiedemann was born and educated in Hamburg and started his career as a lawyer from 1983-1987 when he worked for the Federal Ministry for Youth, Families and Health. From 1987-1991 he worked at the Federal Ministry for Economic Cooperation and Development in Bonn until he was appointed as the Head of the Development Cooperation (aid) for the German Embassy in Dhaka, Bangladesh from 1991-1993.
Before being appointed as the Ambassador of Germany to New Zealand, he was the Ambassador in Ulaanbaatar, Mongolia.
Mr Thiedemann is a lawyer by profession and is married to Dr Malies Thiedemann and has two children.
The Ambassador was accompanied on this trip by Dr Wulf Killmann, GIZ Program Director.
###