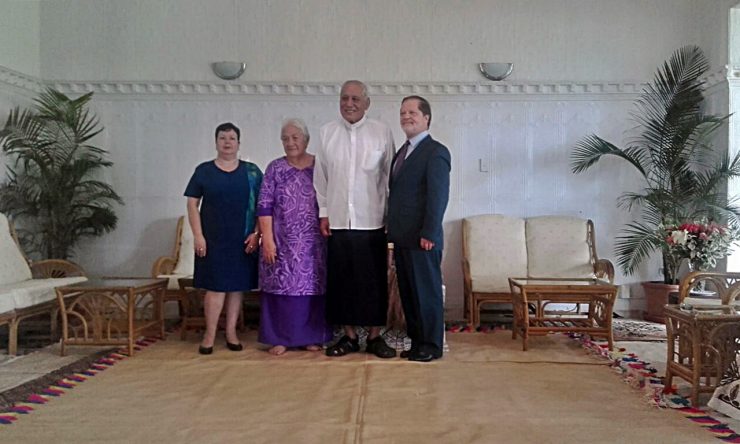 The Ambassador of Israel to Samoa, His Excellency Dr Itzhak Gerberg presented his letters of credentials to His Highness the Head of State on Tuesday this week, marking his official nomination as diplomatic envoy of Israel to Samoa.
His Excellency's statement upon his presentation of credentials, touched on his nation's history and his commitment to strengthening bilateral relations, which began in 1977, with Samoa.
"Israel is an ancient nation rooted in the Holy Land of Israel whose birth certificate is the Bible and we are proud that Jewish values espoused by the prophets are centre to our shared human principles.
"Israel is a small country but a modern state and world renowned start-up nation with striking advanced achievements based on ingenuity, creativity and innovations in fields such as agro-technology, public health food security, water management, education, irrigation, green energy and cyber technology.  Israel is helping to build human capacity in developing countries and will be happy to share its experience with the State of Samoa," said Dr Gerberg.
His Highness the Head of State, Tui Atua Tupua Tamasese Efi, welcomed Dr Gerberg and remarked on the enduring friendship between both nations.
"Samoa and Israel have enjoyed a friendly and fruitful relationship since the establishment of diplomatic relations. This has largely been attained through the pursuit of our common interests and aspirations.
"Samoa appreciates the efforts by Israel in its cooperation with Samoa through assistance in our Health and Sports Sectors as well as the Samoa Victim Support Group over the past few years."
Dr Gerberg was the Director of Southern Africa Department for the Ministry of Foreign Affairs and Trade of Israel, and was posted in several missions in Africa as the Ambassador to Mozambique, Namibia, Zambia, Botswana, Malawi and Zimbabwe.  He holds a Doctorate in International Politics from the University of South Africa and a Masters in Political Science from Haifa University.  He has also lectured at Tel Aviv University and more recently at Haifa University from 2014-2015.
###