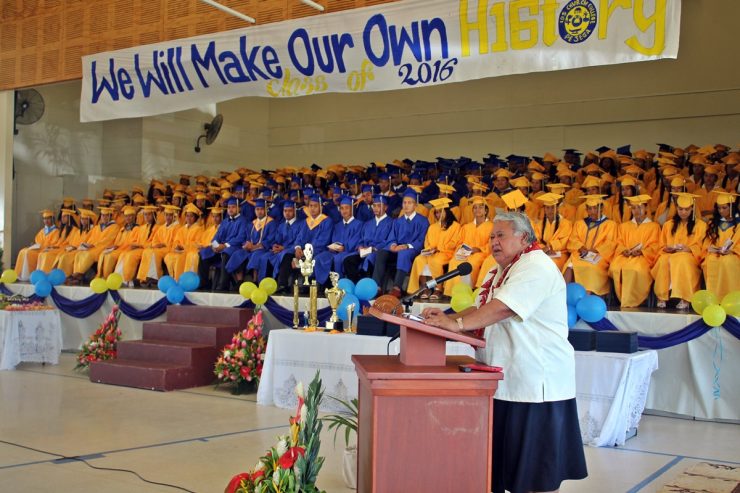 The Church College of Latter Day Saints held their graduation ceremony earlier today, with the Prime Minister Tuilaepa Sailele Malielegaoi delivering the keynote address.
Students of the graduating class of 2016 were joined by their parents, families and friends as they received their certificates and awards.
The invocation was conducted by Aukuso Rasch and Student Body President Ms Elizabeth Solo made the introductory remarks.
The Prime Minister in his speech reiterated the importance of education.
"We never stop learning, even after we have left school.  Education is very important for personal and professional development," said Tuilaepa.
"A person who uses commonsense usually arrives at a successful future."
For the 190 graduates this morning, Tuilaepa said that their academic achievements will help them fulfill their dreams and strive for brighter futures.  He also touched on the fact that studying and academia isn't the only pathway that is available to youth and highlighted the important roles to be found in sporting and music excellence or in family matai roles to oversee village affairs.
"Government is also putting its emphasis in sports because not all our children will graduate as doctors, lawyers or engineers.
"We all know that sport can earn huge incomes for many families, much more than the salaries earned by doctors and lawyers or people that graduate with high degrees from prominent universities.  The potential is there for those who are talented and who wish to pursue sporting glory," said the Prime Minister.
Tuilaepa also also urged the LDS Church to reopen their Primary School to nurture younger generations as they develop through towards college.
###