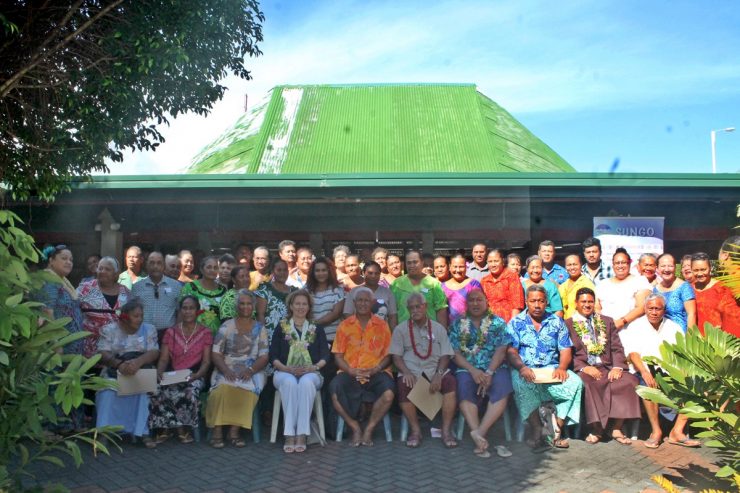 The Samoa Umbrella for Non-Governmental Organisations (SUNGO) Forum on the S.A.M.O.A Pathway and Sustainable Development Goals was officially opened by Prime Minister Tuilaepa Sailele Malielegaoi this morning.
The meeting at Millenia Hotel was funded by the United Nations.
The forum convened especially to follow up on the S.A.M.O.A Pathway which resulted from the 2014 UN SIDS Conference in Apia, as well the Sustainable Development Goals (SDGs) launched in New York in 2015.
The prayer service to bless the gathering was lead by Reverend Kamuta Mataafa and Vice President of SUNGO, Afioga Fiu Mataese made the welcoming remarks.
Prime Minister Tuilaepa in his speech said government has already developed a road map for the integrated implementation of sustainable development goals in alignment with international development strategies.
"Samoa continues to contribute to the development of the regional road map through the mapping of the national development priorities of the S.A.M.O.A Pathway and SDGs as well as those identified by the region under the Pacific framework for regionalism," said Tuilaepa.
"As a result, we are the first group of countries to report to the High Level Forum of the United Nation on the status of the implementation of SDGs.
"The NGOs through this forum will look at ways by which the implementation of SDGs and the S.A.M.O.A Pathway can be effective.
"As you know, the S.A.M.O.A Pathway is the blueprint of the Sustainable Development agenda of  small island developing states."
Tuilaepa also mentioned the challenges in addressing impacts of climate change and natural disasters. Among them is the issue of limited access to climate financing and other technical  resources.
"In this regard, Samoa, in cooperation with SPREP and the Government of Japan will be establishing the Pacific Climate Change Center at SPREP headquarters at Vailima to provide services through research and the provision of technical assistance."
Prime Minister Tuilaepa also announced that a 'Green Climate Fund' Board Meeting will be held in Apia next month.
###