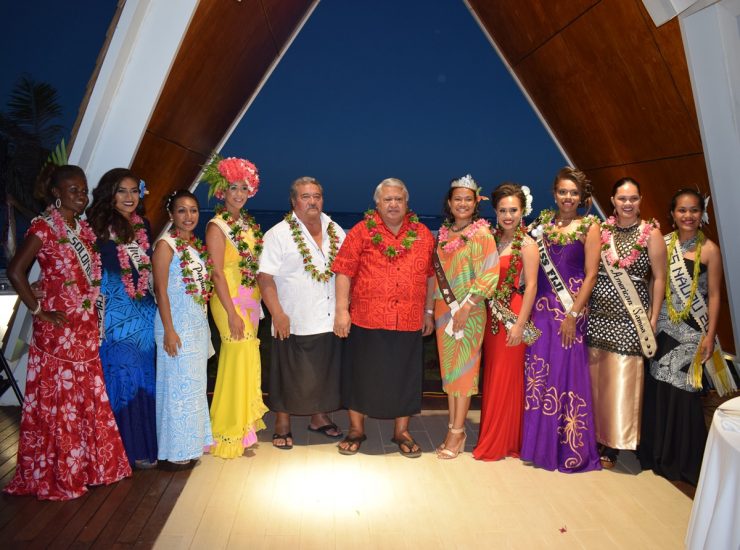 Reigning Miss Pacific Islands Abigail Havora of Papua New Guinea and beauty contestants from the region were welcomed last night by Prime Minister and Chairman of the Miss Pacific Islands Pageant, Tuilaepa Sailele Malielegaoi, as Samoa readies to host the 30th Miss Pacific Islands pageant.
The Chairman's Reception at Taumeasina Island Resort was well attended by local and visiting officials from participating Pacific nations.
"Welcome to beautiful Samoa," said the Prime Minister in his keynote address.
"As you are aware, this Pacific Island's pageant was established in Samoa by the Pacific Island Governments and the Tourism Private Sector in 1987 to promote our cultures and the beauty of our island nations as holiday destinations.
"The pageant has increased in popularity and is instrumental in promoting the importance of culture in the sustainable management of our environment and oceans."
The Prime Minister acknowledged the leaders and governments for rendering their continuous support in the development of women through their national pageants.
Miss Solomon Islands, Camilla Grossmith who is studying to be a Doctor said her dream is to make a difference for her country.  She is also very passionate in advocating for women's rights, gender equality and domestic violence.
"That's one reason why I want to be a doctor – because I believe I can help make a difference in people's lives," she said.
"Thank you to the Honourable Prime Minister and the people of Samoa for hosting the pageant. I'm very honoured to be representing my country and to have met all these lovely people from the Pacific."
Miss Fiji, Anne Christine Dunn who just graduated with a degree in law wants to become a public prosecutor in Fiji and a human rights lawyer for the Pacific region in the future.
The 30th Miss Pacific Islands Pageant will be held at Tuanaimato on Friday 2nd December.
###