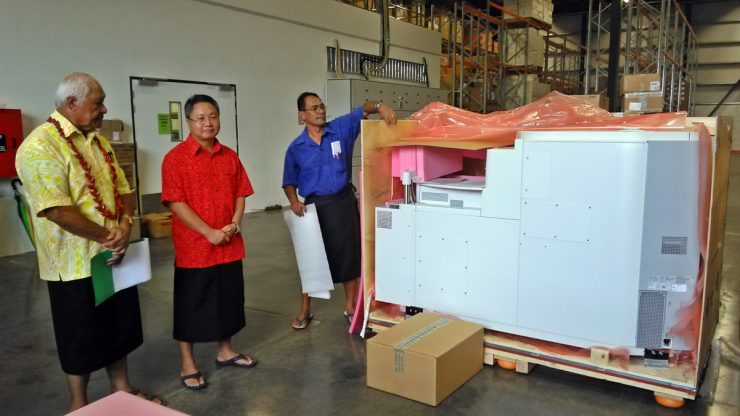 The Huizhou Municipal People's Hospital of Guangdong of the People's Republic of China through China's Ambassador in Samoa, HE Wang Xuefeng presented medical equipment for Samoa this morning.
The ceremony was held at the Samoa Pharmaceutical Warehouse at Motootua, where the Minister of Health, Afioga Tuitama Dr Leao Talalelei Tuitama received the donation on behalf of the Government and people of Samoa and thanked the Government and people of China for this generous assistance.
The Minister of Health said the donation includes one portable X-ray machine, one colour full digital ultrasonic diagnostic apparatus, one full-automatic biochemistry analyzer and three boxes of lead protective clothing to the value of US$987,119.00.
Tuitama also acknowledged the Memorandum of Understanding signed by Samoa and Huizhou Central People's Hospital in Guangdong in 2015 to promote health cooperation and share medical achievements between the two countries.
"I wish to note that this is the second lot of medical equipment and supplies received under this MOU and Agreement with the Huizhou People's Hospital," said Tuitama.
"These donations will go a long way to assisting with the diagnoses of illnesses and will save a lot of time which is a crucial element in assuring positive health outcomes.
"Your continued assistance to Samoa through the Ministry of Health has raised the standard of care for our people to new levels."
His Excellency Xuefeng in his remarks said he believes that the medical equipment will help improve the medical treatment in hospitals in Samoa.
He also said four doctors are also currently trained on how to use the medical equipment in China and will return at the end of month.
"The donation of the medical equipment has been another monument of the friendship and cooperation between China and Samoa.
"We have helped to build the Tupua Tamasese Meaole hospital and donated medical equipment.
All together 14 medical groups have come to work in Samoa in the past 30 years. The 15th group is coming this year."
His Excellency said last year, China provided opportunities for a group of Samoan doctors to go to China for medical training.
"I sincerely hope that China and Samoa will continue to strengthen cooperation in medical field and bring more and more benefits to our people."
###