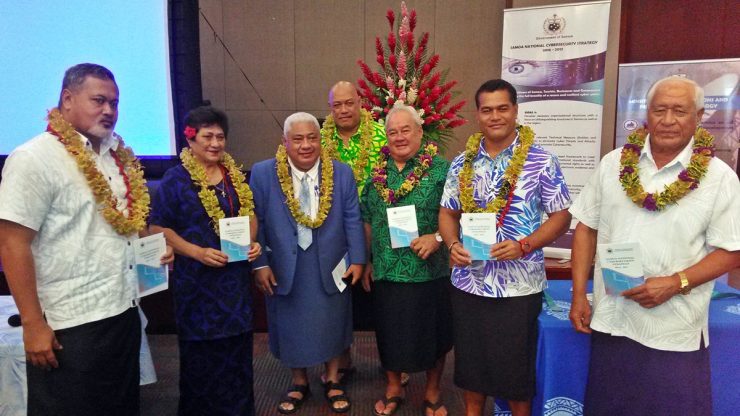 The Samoa National Cybersecurity Strategy 2016-2021 by MCIT was officially launched yesterday morning at the Tui Atua Tupua Tamasese Efi convention centre.
Minister of Communication and Information Technology, Afioga Afamasaga Fonoti Lepuia'i Rico Tupai delivered the keynote address.
The launching of the strategy was performed by MCIT Associate Minister, Lealailepule Rimoni Aiafi.
Afamasaga spoke of the importance of cyber security at the national level, which could have far-reaching effects for Samoa's economy.
"Cyber attacks can negatively impact the prosperity of our economy, and prove to be a hindrance to the success of our private sector," said Afamasaga.
"The launch today of the National Cyber Security Strategy is a concrete move towards a safer Samoa. An initiative to ensure your information is safely guarded and that your privacy and security is a top priority of your Government."
Afamasaga assured that our location and isolation from the big parts of the world has helped keep us safe from traditional attacks.
"Our borders are protected and monitored from illegal importation of guns and other dangerous weapons, but we are not immune to cyber attacks which can be perpetrated from anywhere in the world, by anyone at anytime."
Afamasaga said every avenue  is being pursued by government to grow our economy and a big part of that lies with investment in submarine data cables to improve connectivity.
"The launch of the Tui Samoa Cable is targeted for later this year, and when switched on, it can greatly improve our efficiency and increase our capacity to better and effectively perform online transactions and communications.
"But while we work hard to build a productive and competitive economy, our efforts are equally matched by criminals with hostile motivations.
"Cyber attacks require a comprehensive and coordinated response between Government, private sector and individuals," said Minister Tupai.
Some of the strategy guidelines include strengthening and redefining the National ICT Steering Committee and its members and prioritizing cyber security in its mandate.
It will also establish a roadmap for governance of cyber security in Samoa and ensure cyber security  is continuously developed in accordance within internationally accepted standards.
MCIT anticipates that within the next five years, individuals will become more aware of cybersecurity threats and businesses will be more responsive to cybersecurity issues and establish a working relationship with government, trade associations and other partners to tackle cyber threats.
Government has sharpened law enforcement responses to cyber crime; secured funding to provide cyber security services; encouraged businesses to operate securely in cyberspace; enhanced education and skills; established and strengthened working relationships with other countries, businesses and organisations across the world to positively shape an open and vibrant cyberspace.