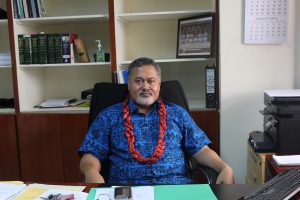 Honourable Faaolesa Katopau Ainu'u
Minister of  Justice and Courts Administration, Afioga Faaolesa Katopau Ainu'u  is a Member of Parliament for Vaimauga West Number 2.
Faaolesa is a lawyer by profession and this is his first term in Parliament. The Hon. Minister of Justice was admitted to the bar in 1996 and is the founder of Ainu'u Law Firm. He has also worked in American Samoa in the Attorney General's Office. He is a graduate of San Diego University and the University of Hawaii.
Faaolesa is married to Diana Ainu'u and is a member of the Congregational Church of Jesus in Samoa.