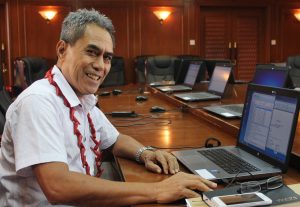 Honourable Sili Epa Tuioti  
Sili was appointed Minister of Finance after winning the Parliamentary seat for Faasaleleaga Number 1 East in the General Elections in March 2016.
Prior to his entry in to the political arena, Sili was Co-Managing Director and Principal Consultant of  KVA Consult.  He has also worked as a public servant for over 20 years, mainly with the Departments of Treasury and Economic Planning & Development.  He was Head of Treasury and the Principal Financial and Economic Advisor to the Government of Samoa from 1991 to 1999.
Sili is married to Pearl Tuioti and is a member of the Methodist and the Protestant Churches in Samoa.
Ministerial Portfolio
Ministry of Finance
National Provident Fund
Central Bank of Samoa
Development Bank of Samoa
Samoa Life Assurance Corporation
SIFA
Unit Trust of Samoa
Other Responsibilities
Tenders Board
Totalisator Agency Board
Gambling Control Authority of Samoa
Offshore Jurisdiction
Renewable Energy
Isi Matagaluega i lalo o lana vaavaaiga
Matagaluega o Tupe
Faalapotopotoga NPF
Faletupe Tutotonu
Faletupe o Atinae a Samoa
Faalapotopotoga o Inisiua a Samoa
Pulega o Teugatupe Faavaomalo
Faaputugatupe Teu Faafaigaluega o Mavaega Tausi a Samoa
Isi Matafaioi
Komiti o Tauofoga
Komiti o Petipetiga
Pulega e Faafoeina Kasino ma Taaloga Faitupe eseese
Teugatupe mai fafo
Malosiaga Toe Faafouina
OFFICE OF THE MINISTER
Secretary: Taumuli Saena
Phone: +685 34183
Email: taumuli.papalii@cbs.gov.ws