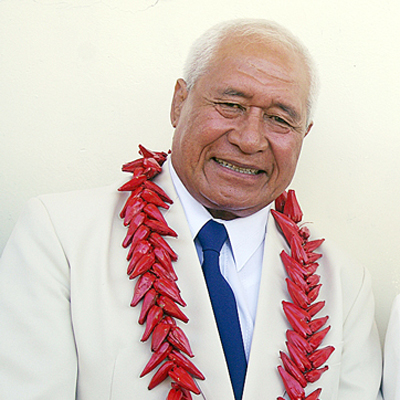 Honourable Tuitama Dr Talalelei Tuitama
Minister of Health, Afioga Tuitama Dr. Leao Talalelei Tuitama is a Member of Parliament for Aana Alofi Number 1 East.  This is his second term as Minister of Health and his fourth term as a Member of Parliament.
Afioga Tuitama is a Medical Doctor by profession and before he entered Parliament in 2001, he worked as a Doctor at the Samoa National Hospital and in private practice. From 2001 until 2010, he was the Member of Parliament for Vaa o Fonoti and held the portfolio of Associate Minister of Health.
He is married to Lanuola Tuitama and is a member of the EFKS Church.
Ministerial Portfolio
In Charge of:
Ministry of Health
National Health Services
National Kidney Foundation
Other Responsibilities:
Oceania University of Medicine
District Hospitals & Health Centre
Women's Health Committee
---
View English Translation
Matagaluega i lalo o lana vaavaaiga:
Matagaluega o le Soifua Maloloina
Vaega o Auaunaga Faale Soifua Maloloina
Faalapotopotoga Faavae Tau Fatugao a Samoa
Isi Matafaioi:
Iunivesite Faafomai o le Osenia
Falemai Faaitumalo & Ofisa o le Soifua Maloloina
Komiti Tumama a Tina
OFFICE OF THE MINISTER
Secretary: Sheila Sitanilei
Phone: +685 23621, +685 23786
Email: secretaryminister@health.gov.ws