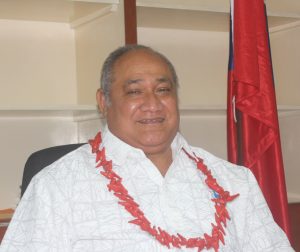 Honourable Tialavea Fea Leniu Tionisio Hunt
Tialavea is the Minister for Revenue and also the Minister for Prisons & Rehabilitation Services. He is the Member of Parliament for the Vaa o Fonoti Constituency and this is his second term in Parliament.  He was the Associate Minister for the Ministry of Finance and Associate Minister of Police, Prisons, Fire and Emergency Services in the previous Parliamentary term.
Tialavea was a member of the Board of Directors for the Samoa Shipping Corporation and the Development Bank of Samoa prior to his shift to the political arena.
He was educated at Marist Brothers, Mulivai and St Josephs College, Lotopa and has a background in construction.
The Hon. Minister is married to Elizabeth Hunt and they are members of the Catholic Church.
Ministerial Portfolio
Ministry of Revenue (Customs & Tax)
Prisons and Rehabilitation Services
Other Responsibilities:
Liquor Board
Revenue Board
Juvenile Rehabilitation
Robert Louis Stevenson Foundation
---
View English Translation
Matagaluega i lalo o lana vaavaaiga:
Matagaluega o Tupe Maua (Tiute ma Lafoga)
Falepuipui ma Auaunaga Toe Fuataina
Isi Matafaioi:
Komiti o le Ava Malosi
Komiti o Tupe Maua
Nofoaga Faapitoa mo le Toe Fuataina o Tupulaga Talavou
Fale Mataaga o le Robert Louis
[/column][/columns]
OFFICE OF THE MINISTER
Secretary:
Phone:
Email: